Gotfrit von Straszburg, Trystan 1821
As we catalogue the Flintshire Harries Arthurian collection we are discovering some treasures. The latest is a version of Tristan (Trystan) by Gottfried von Strassburg printed on handmade paper, and dated 1821.
Gottfried von Strassburg (died c. 1210) is the author of the Middle High German courtly romance Tristan, an adaptation of the twelfth-century Tristan and Iseult legend. Von Strassburg's work is widely acknowledged as the greatest adaptation of this legend of medieval lovers, and went on to influence generations of writers and artists. It is by far the greatest influence and inspiration for Richard Wagner's opera Tristan und Isolde.
Gotfrit von Straszburg, Trystan 1821, Publisher Reimer: Berlin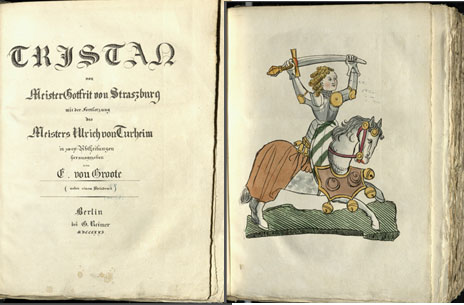 Publication date: 17 April 2018